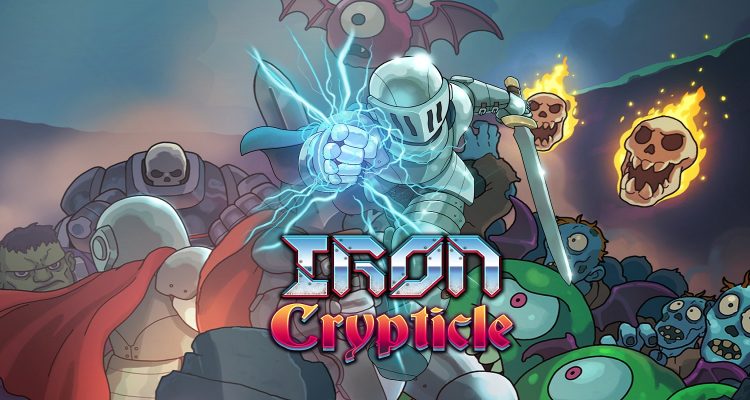 A 4 player co-op that is all about getting loot and working as a team to go floor to floor defeating enemies and bosses to keep going.
General Gameplay
Iron Crypticle is a new school-game with an old-school soul.  Taking from popular games like Gauntlet and Smash TV, Iron Crypticle does a great job of making a 4-player couch co-op that is fun for all to play.  From the visual standpoint, the game borrows heavy from the 8-bit era with the detailed graphics of the player and enemies.  The game's visuals are very easy to see on any size screen, but if you are going to play couch co-op it is best to play on a larger screen that is around 40" and larger.  The game does not support a color-blind mode, but in our play testing we did not see the need for this as the colors are very easy to see on the screen.  The game is rated T – for Teen, however, after seeing the low level of violence in the game we feel that it's more deserving of a rating of E10.  The only thing we saw that may be too scary for younger gamers is that the enemies, when destroyed, do disassemble and go skeletal with a little red splash on the screen.  Audio in the game is mostly grunts of the monsters, explosions and general weapons sounds.  There is a background music that is in the stages but nothing too overpowering to the gamer.  The game does not have any spoken dialogue, so there is nothing offensive for any gamers in your gaming family.  The game does not support 5.1 surround sound but the game sounds fine from a surround sound system, or you can even use headphones to play the game (parents please use caution when allowing your gamers and extended use of a headset). Controls are very easy to pick up and play with Iron Crypticle.  Use the shoulder buttons used to shoot, special power up, and dash, the left thumb stick to move, and right to shoot your weapon.  The game does not need a special controller on the console so you should be ok using the standard controller for your console.
 "Take a dungeon crawler, a cool loot system, and add a 4 player element to it and you have a wonderful 4 player co-op masterpiece in Iron Crypticle"
Family Friendly
Before you think that the game is too high of a rating at T – For Teen, take it from us – after testing the game with all ages of gamers in our gaming family that the game is fine for anyone of the age of 9 and up to play the game.  We believe that the game should have been rated E10 – Everyone 10 and Up, but the ESRB at times goes on the side of caution and at times over-rates a game, and we feel this was the case here.  Iron Crypticle is a fun game.  It is a game that easily can become a great add to your digital library as it incorporates a couch co-op mode that is very addictive to play with others.  With simple but very responsive controls, fun levels and an overall great mixture of a dungeon crawler with loot, and you have a masterpiece that is this game.  One of the fun family aspects of this game is the ability to play as a team.  This helps balance out who is doing what and encourages teamwork with others.  This is a great game to help build family bonds, as the game is all about watching each other from level to level and working together in boss fights to bring them down.  During our playtesting we had a great time. When we allowed families to play the game via co-op, once they learn how the game plays out and what each power does, we saw them working in unison to go through each level and work as a team.  This was a very big plus as this is one of those games that does really bring a family together.  Also, for those who are fans of this type of game, Iron Crypticle offers a more challenging mode as well as an endless mode to test your skills on.  This makes the game more well-rounded for all gamers in your gaming family.
Closing
Iron Crypticle is one of those games that are must-have in your digital library.  The gameplay and ability to play up to 4 players will have you playing this game for a long time.
Be sure to listen to our podcast for our real thoughts on Iron Crypticle!