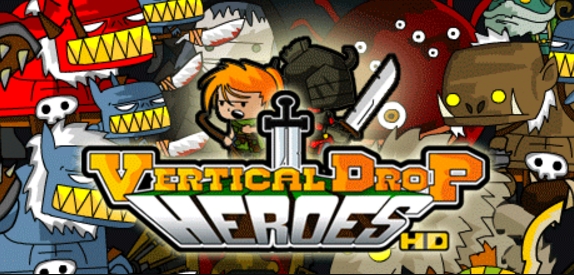 Take a Light RPG, a downward dungeon with levels, loot to collect and lots of replay, and you get the game that is Vertical Drop Heroes HD.
General Gameplay
Vertical Drop Heroes HD is a remake of the browser game that came out some years ago, and now it is available on the PS4 and PC as a standalone game.  The gameplay is simple – pick a character, get the loot, go down a dungeon, fight enemies, then a boss battle, build experience and repeat the process.  Before you think that this is a simple game, don't – the game is very complex and offers a lot of replay value.  Game Visuals are very clear and clean to see on the screen.  The characters on screen are very detailed down to their weapons, clothing and other items on the screen from enemies, backgrounds and other items going on.  The game does have some violence but it is kept to a minimum as you defeat an enemy; there is a little blood on the screen, but it disappears after a few seconds.  For parents who are worried about whether there is anything offensive in the game, there is not, as we played the game for several hours and other than the minor blood splat on the screen, everything thing is family friendly.  The violence is no more than you'd expect to see in an animated children's TV show. The game does not support a colorblind mode, however the graphics are sharp and clear enough to see the colors without one.  Audio is very clear and easy to hear from the speakers.  There is your general background music (no audio dialogue in the background music) and the general sounds that you would hear from the game's style.  From weapons sound effects to blasts, monsters grunting and other sounds that make up the game,  we did not hear anything offensive in the audio that would be inappropriate for your gaming family.  The game does support 5.1 surround sound and it sounds very well through a gaming headset… parents/guardians, please use caution on extended use of a headset with your gaming family members. What makes the Controls a real joy is that they are very easy to pick up and play with this game.  With the left thumb stick to move the character, a jump button and buttons for weapon attack and special buttons, the game is designed to be fun for anyone to play the game. One of the unique features that we liked was the "auto attack" button that is available in the options menu.  This feature allows new players and younger children play the game in the split screen or alone without worrying about how to attack the enemy.  This is a great way for parents and children to play and have fun with the game without worrying about mastering the controls (more about this in our family friendly section).  The game does not need any type of special controller to play the game, and the standard controller should be fine.
 "Vertical Drop Heroes is a game that you can have fun with on the couch with your love ones and still find more challenge that will want you to continue to play it more"
Family Friendly
Let's just put out there, Vertical Drop Heroes HD is a fun game for all to play.  From the graphics to the ease of the controls to its overall feel, this is a game that should be in your digital library.  One of the great features of this game is the ease of playing split-screen with your gaming family and still have a great time, no matter what your skill level.  The auto attack option allows someone who is not an experienced gamer play the game and enjoy it.  It allows anyone to enjoy the game without being an experience gamer.  Another great feature to this game is that it is a light RPG.  It allows gamers who are not familiar with RPG games to be more comfortable playing a game like this.  As the game is not too hard, it does take a while to get to the level that is needed for your character to be face to face with the final boss.  During our playtesting, our parents and younger children alike had a blast playing the game, and enjoyed the replay ability of the game.
Closing
Vertical Drop Heroes HD is a fun, easy to pick-up-and-play-game that should be in everyone's digital library.  It's a must-have for anyone to play with younger children or those just looking for a light RPG to play.
Be sure to listen to our podcast about our real thoughts on Vertical Drop Heroes HD!