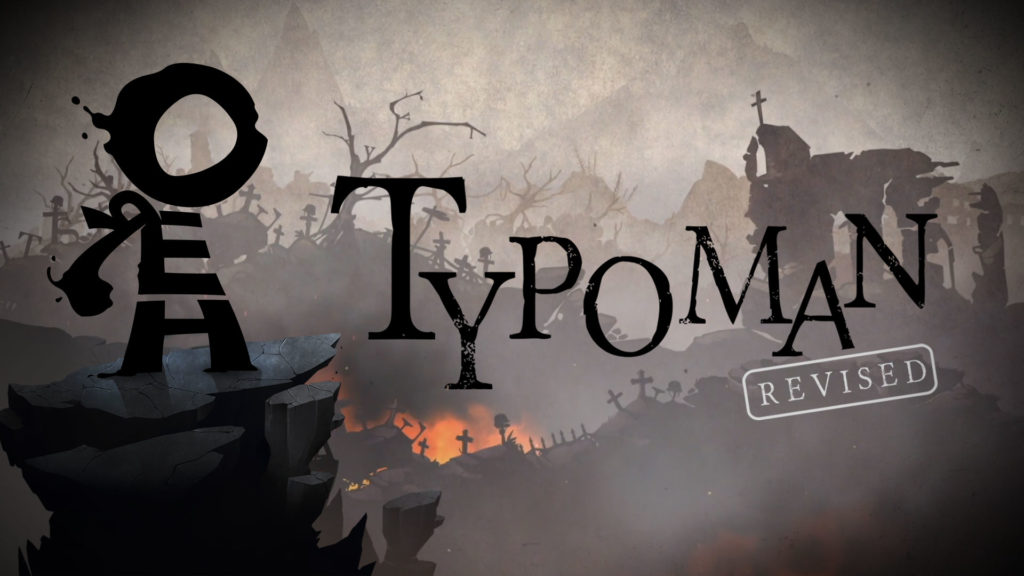 Typoman: Revised is a word puzzle-meets-platform game in which your character, whose body is made of the letters that spell out "HERO", has to go through an artistic platform world and stop an "EVIL" (an opponent made of the letters that spell out "EVIL") from spreading.  It is a blend of platforming, creative thinking and word puzzle solving to proceed in the game.
General Gameplay
A platform game at heart, Typoman: Revised is a hybrid of a platformer and a word puzzle game.  You have to use letters taken from a scrambled pool to make up words that will allow you to proceed in the game. The game consist of three large levels, with clues that go into a journal that tells the story of the game.
Audio
The game's audio is fantastic; from a great soundtrack to the ambient background sounds that come from the game, Typoman: Revised does a great job in the sound department. It really helps to make you feel entrenched into the game.  The soundtrack is instrumental, so there is no audio language nor lyrics that would be offensive to any of your gaming family members. The game is in surround sound, and for those in your gaming family who use a headset to game, it sounds very clear.  As always, parents, please use caution for extended gameplay session and headset usage.
Visuals
The visuals in Typoman: Revised are a wonderful world created in darker tones and high-contrast colors that bring the game to life.  From how beautifully the characters are created from words, to the backgrounds, to even minor details in the puzzles, everything is drawn out so cleverly.  The game does not support a colorblind mode, but as the nature of the game's visuals are to be easily seen on the screen, it does not need it.  Parents, there is nothing offensive visually or even in the text that would be questionable for your gaming family to play.  The antagonist could be a little bit scary for some younger gamers, but this is barely even a minor issue – it's a negative word trying to attack a positive word – no real violence of any kind.  In our playtest, our special needs gamers loved how the game was "uniformed" and easily able to be seen as a work of art.  Our family members who have Autism loved how the game was designed, and how the main character was drawn, and found the game very enjoyable.
Controls
Controls are very friendly for the game.  With the left thumb stick to move and a jump, pick up, toss, and push button, the game is very responsive to the controller setup.  The setup makes it easy for people to pick up and play the game; even those who are not platformer fans are able to play the game very easily.  As with any type of platformer, you need the controls to be very responsive, and they are.   Also, when selecting the letters to form words, the game does a great job of making it easy to get the letters you need to go from one puzzle challenge to the next.  During our playtest we did not see any issues with our gaming family using the controller or even the controller setup.  The game does not require any type of special controller or any other accessories to play the game.
"Typoman: Revised is a great platformer all around, and overall a great visual story, told from the letters that it speaks."
Delivery
In the world of platforming, puzzle solving and word problems, Typoman: Revised gets it right.  This is one of those platformers that you do not want to miss, challenging enough to entertain all ages but creative enough to help younger gamers learn while having fun. This is a perfect game for those that love platformers and word puzzles (more on this in our Family Friendly Section) Also this is a great game for those that want a platformer in their digital library that is very easy to pick up and play and have fun without making a full 3-4 hour commitment to play a very long game.
Family Friendly
Typoman: Revisited is a unique enough game to have something for both parents and children alike to enjoy, so the best part is that both young and old will be happy with this addition to the digital library.  The platforming aspect is great for those in your gaming family who love platformers, whereas the word puzzles are great for others who love creative problem-solving and puzzle games. It is a strange hybrid, but it works here!  In our playtest, we saw gamers that love both genres of games playing together and having fun at the same time.  This is also a great game to play as it helps the children (even adult gamers, LOL) learn to become better spellers.  The game also helps with vocabulary, and when you pass each challenge, you feel a sense of accomplishment for figuring out the word puzzle and the clever meaning revealed when it's solved.  Don't let the game's appearance fool you; buried deep in this platformer is a decent word puzzle that can be tricky at times to figure out.  I have to admit that during our playtest, we did turn to the internet to figure out some of the puzzles, and when we saw the solution I looked over to Camille (Senior Blogger and Play tester), and she and I both had a look of "Why didn't I think of that!"  The only complaint we had was that the main portion of the story was short, however, the mini word games make up for it as they add more gameplay value to the game.  Also during our playtest, we did not see, hear or experience anything that would be offensive or inappropriate for any of your gaming family members.  During our special needs gaming test we did not see anything that would be of concern.  If anything, our family gaming members that have Autism loved the spelling challenges and the platforming very much… So much so that one of them decided to play the game a second time to beat it again, because it was so much fun the first time around.  Typoman: Revised is one of those games that is a timeless must-have in your digital library.
Closing
With a wonderful balance of platforming, word puzzle solving, and its overall look and feel, Typoman: Revised is a great game for any gaming family's digital library.
We are also happy to award our Family Friendly Favorite Game and Special Needs Family Favorite awards to Typoman: Revised and the developers Brainseed Factory.