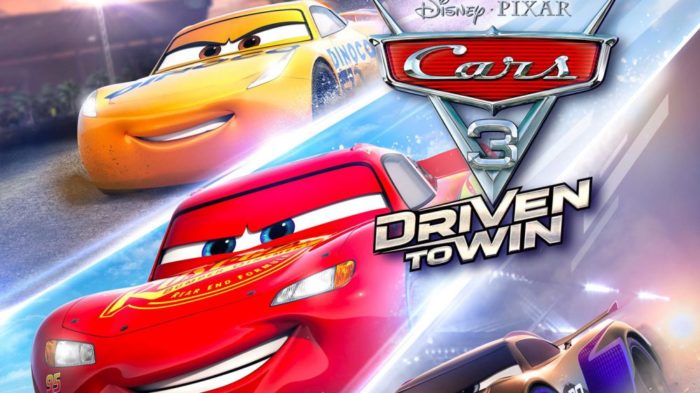 Cars 3: Driven to Win is a racing game that is based on the movie.  With races, stunts, combat racing and a free mode, the game is designed to be an overall family friendly game.
General Gameplay
Cars 3: Driven to Win is a racing game with cast of the Cars series that you can play as in the game.  The game has its classic racing mode, as well other modes like Takedown, Stunt Showcase, Battle Racing, and a Playground mode that acts like a sandbox style of gaming.  Game Visuals for the game are very sharp.  As it is all-around racing, all the characters from the Cars universe are in great detail, as well the backgrounds and in-game objects.  The game does not support a color-blind mode; however, one is not needed for the game. In our playtest, we did not see any issues graphically with the game, and there was nothing that would be offensive to any of your gaming family.  There is no violence in the game.  The game's Audio is done very well for a licensed game.  The game uses voice actors for the dialogue, and the background music is done in the style of the movies.  As this is a game based on a children's movie, the game's sound is designed to be family friendly.  In our play test, we did not encounter any issues with the game's audio or voice-overs.  The game is in 5.1 surround sound, and also sounds fine while using headphones.  Again parents/guardians, please use caution with gamers using a headset for long gaming sessions.  Cars 3: Driven to Win Controls are set up as a racing game should be.  The left thumb stick is used to steer the car, the left and right triggers are for gas and break, the face buttons are for jumping, power sliding and using items. The game is designed to be user-friendly and easy to pick up and play without any steep learning curve.  PC players, we highly recommend using a console controller like the Xbox 360, or Xbox One controller, as it makes the game easier to play.
 "Cars 3: Is a fun, fast-paced driving game that did not fail to deliver the fun.  If you are a true Cars movie fan or just a fan of fun racers, this is the game for you!"
Family Friendly
Let's start by saying that the game is fun for all ages.  It is an easy pick up and play game that everyone in your gaming family can enjoy.  In our play testing, we did not encounter any issues with any age of gamers nor gamers on the spectrum.  Cars 3: Driven to Win is designed to be more of a children's game, but this is a game that both parents and children can enjoy.  The game does support an online mode, however, we were not able to connect onto an online session.  Also, while the game is designed to cater to younger players, some of the levels can get very repetitive for more experienced gamers, so if you are planning to pick this game up, keep in mind that older gamers may get bored of the game; we felt it was more entertaining and designed for the younger crowd.  If you have younger children who are fans of the Cars movie series, we highly recommend this game for them.  Also as this is a title that is released on all platforms (Xbox 360, Xbox One, PS3, PS4, PC, Switch) it should be a great title to pick up on any console.  At the time of the review we did not test the game on the Xbox 360 or PlayStation 3, however, we feel that the game shouldn't be any different on the older-generation consoles.  In our special needs gaming test, we did not run into any issues with the game, its content or even the controls, and found the game to be very special needs friendly.
Closing
Cars 3: Driven to Win achieved something that a lot of movie-based games don't – it was fun to play!  We highly recommend this game for any families that have children who love the movie series, as they will not be disappointed.
Be sure to listen to our podcast about our real thoughts on Cars 3: Drive to Win!