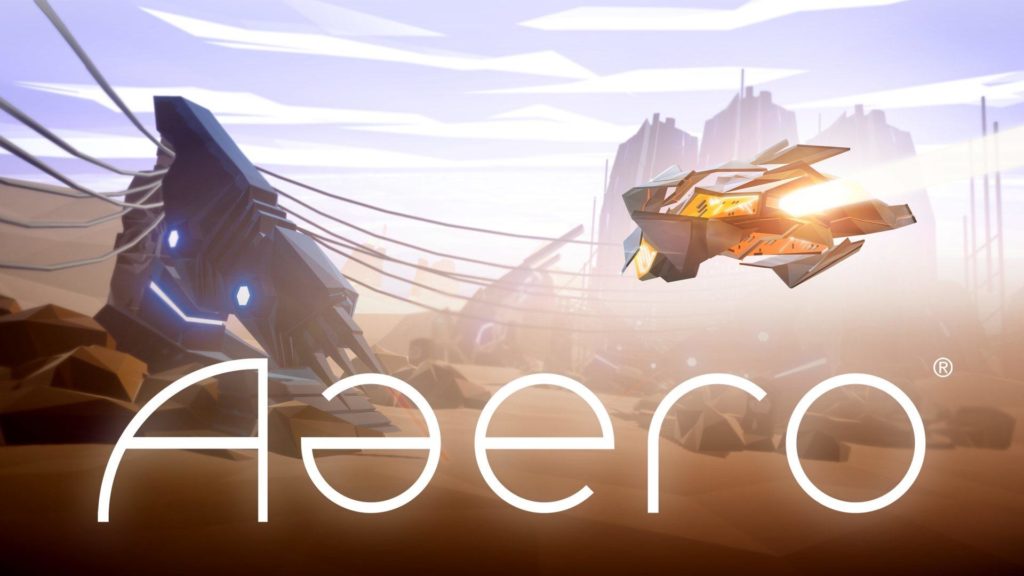 Aaero is a mixture of a rail shooter with EDM music that mashes-up into an experience in which you fly your ship in sync with the waves of the melody and the shots fired as beats while trying to survive. Genius.
General Gameplay
The game is a unique blend of a rail shooter and a rhythmic matching as you are flying in a spaceship.  During each level you are trying to stay in sync with the music, following a glowing ribbon of the melody while shooting enemy ships and other objects for percussion sounds.  At its core, Aaero is a rail shooter with an EDM (Electronic Dance Music) soundtrack… but the soundtrack is the foundation of the gameplay!
Audio
This is one of the many places in which the game shines.  The game is a mixture of EDM and Dubstep styles of music from artists like Flux Pavilion, Noisia, The Prototypes and other groups/DJs/performers.  The game's audio is one of its core attractions, and the music fits flawlessly with the game.  During our playtest, we did not encounter anything that would be offensive to any gamers, however, as the EDM and Dubstep style of music is not everyone's cup of tea, we encourage gamers to eventually play the game using a headset to see if it is appropriate for all to hear (again we did not encounter any audio issues whatsoever during our test, but we love EDM!).  Parents won't find anything offensive with the audio, but they may not want to hear it from the same or next room, just as a matter of personal preference. Also, the game does a great job with general sound effects that you would hear with a shooter.  From laser shots to other sound effects, everything comes together well.  Aaero does support 5.1 surround sound and headset use, but again parents, please be sure to monitor your gamers' extended use of headphones. We'll emphasize this in Aaero's review because with popular music at the core of gameplay, your gamer may be inclined to turn up the volume a bit much.
Visuals
The game is very stunning to watch in motion – imagine traveling through a tunnel of sound.  There is nothing fancy about the graphics, but they are done well enough in which you can see your ship, the enemy, the white glowing ribbon and other objects without any issues.  In our playtest, we did not encounter any visual gameplay concerns or issues; the game ran smooth very clearly.  In our special needs gaming testing, our special needs gamers liked the interaction with the "white music ribbon" and how the music went with the general gameplay (more on this in our Family Friendly Section).  Aaero does not support a colorblind mode, but with some color adjustments to your gaming monitor you will not have any issues seeing & following the action in the game.
Controls
With shooters, the controls must be precise and reactive to the action on the screen, and Aaero's controls are both easy to pick up and play and easy to use.  This is a game for beginners and gaming veterans alike. You use the left thumb stick to move the ship and the right one to aim at your target, one button is used to shoot, and that's it!  The game's controls are designed to let both an expert and someone who is new to rail shooters pick up and play the game.  As the game is on both PC and console, there is no need for a special controller to play the game, but we do recommend that you do get a "standard" console-type controller for your gamers who would play Aaero on the PC.  In our playtesting, we found the game's controls to be very easy to use for every member of our testing family, both young and old, on the special needs spectrum and otherwise.
"Mixing a great fast paced shooter with EDM-style of music is a great mixture for any gamer to experience."
Delivery
Aaero is one of those unique shooters that is an experience just to play.  The mixture of music/rhythmic gameplay with a rail shooter is a good mash-up.  The game has it all for both music lovers as well as gamers.  This is one of those games that we consider a must-have in your digital library.  If you are a fan of both or even one of the genres of music games and rail shooters, you will not be disappointed.  Don't be fooled – the game is no cake walk; the leaderboards in the game alone will have you playing the game for hours to get your score higher to rank up.  During our playtesting of the game, we saw that Aaero was enjoyed by all of our family gaming members, even those who are not fans of the EDM music.  They found that the 5 minute levels were not too long or short, and that the challenge was good enough not to be frustrating but enough to entertain.
Family Friendly
There must be something about shooters and music games that brings a gaming family together.  Aaero takes this blend and makes magic out of it.  Like we said before, there are people out there that are not fans of EDM music, but the music in the game will make a fan of you!  The game is not too hard nor too easy, but rather a good balance that will keep your gaming family engaged for hours, and the ease of the controls makes it easy for anyone in your gaming family to pick up and play the game.  One thing that we noticed during our special needs gaming test was that Aaero is the first game we've seen to actually break the digital platform barrier and deliver a cognitively stimulating, sensory experience that enables players to literally feel sound in motion.  This was a pleasant surprise to see and we were happy to see everyone enjoy the game so much.  The game has no type of offensive material from its audio/visual presentation or even controls.  This is one of those friendly games that is enjoyed by all. Check out our podcast featuring Aaero here!  Listen to our podcast review of the game here!
Closing
Aaero is a wonderful blend of music and rail shooters that just cannot be missed.  This is a must have for your digital library.
We here at Family Gamer Review are also proud to award both our Family Friendly Favorite Game Award and our Special Needs Family Favorite Gaming Award to Aaero!